Nissan Versa Dayton OH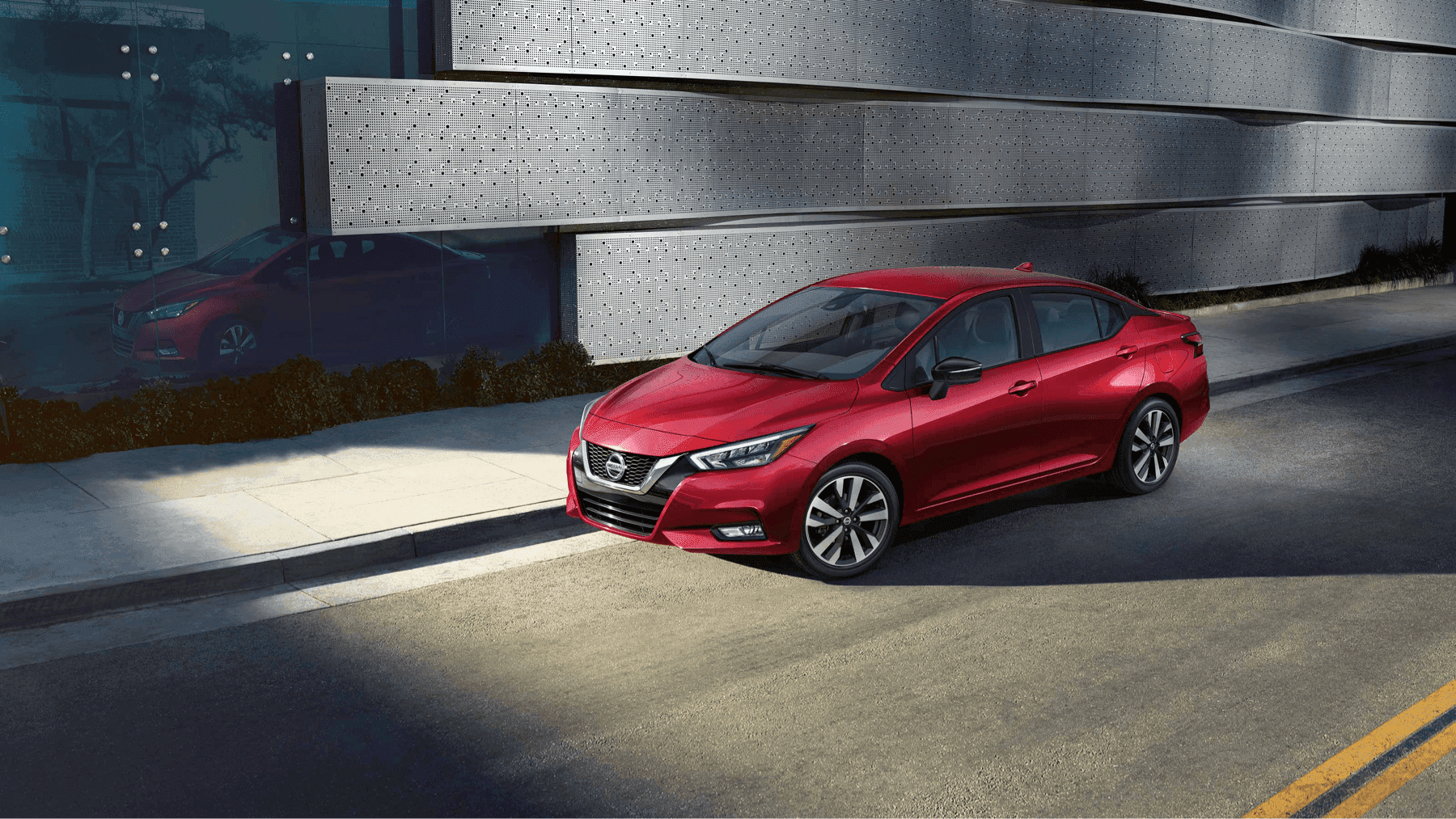 JEFF SCHMITT NISSAN
THE NEW NISSAN VERSA: A MODERN MARVEL
---
Big on space and small on price, the all-new Nissan Versa sedan is a whole lot of ride for not a lot of dough. Get all the style, comfort and value of the new Versa, along with the Miami Valley's best buying experience; that's the Jeff Schmitt Advantage.
Great fuel economy gets you where you want to go and with a roomy back seat you can take all your friends. The spacious trunk will handle your junk as you head off on your weekend adventures or haul what you need for your latest company project. The Nissan Versa may stand for versatility because it works whether you are commuting into work or running around town with a million errands to run.
YOUR VERSA, YOUR CHOICE!
With four trim levels and the option of the Versa Note hatchback, you've got choices to enhance the basics and upgrade from the entry-level model to have as many bells and whistles as your budget will allow. Whether you are shopping for the most expensive car on the lot, or looking for something to fit into your current economic situation we treat all our customers with the utmost respect and care. Here at Jeff Schmitt Nissan, we are here to help you find the right car to fit all your needs. Our goal is to create happy customers and we do that with a few simple rules. First we maintain a large inventory of new and pre-owned Nissans. We personally inspect each and every vehicle before we release it for display because it is our responsibility to make sure you receive a quality car from us.
JEFF SCHMITT NISSAN: THE EXPERIENCE YOU DESERVE
We make it easy to begin your search for a new car on the Jeff Schmitt Nissan website, where you can talk with our agents on live chat, or even text for more information. Of course, if you'd like to experience our hospitality and knowledge in person you can give us a call at 855-478-0665 and set up an appointment for a test drive. Let us show you how much fun it is to own a Nissan Versa; especially when it comes from the Jeff Schmitt family.
The Jeff Schmitt Auto Group Wants To BUY YOUR CAR!
WHY BUY FROM JEFF SCHMITT NISSAN?
We believe in taking care of our valued customers with honesty, integrity and an absolutely amazing selection of Nissan vehicles. We'll work to earn your business the right way – not with flashy gimmicks, but by putting your needs first every time.
For years now, we've been the Miami Valley's leader in Nissan sales, service, and selection. That's because we're driven – not by money or profits, but by your absolute satisfaction. If you take the time to make Jeff Schmitt Nissan your first visit, we'll give you all the reasons you need to make us your last visit as well. From the moment you arrive, we'll have your back, and not just because that puts us closer to your wallet, either. We want to show you that it really is possible to find a car dealer you can count on for all your automotive needs. We'll be there to guide you to the perfect vehicle and financing options; and we'll continue to be there to care for your vehicle, keeping you worry-free all the while. Come and see just what the Jeff Schmitt Advantage can do for you. We promise you won't regret it.
The pros at Jeff Schmitt Nissan work hard to serve the Miami Valley the right way, with expert focus and dedication to your individual needs. We pride ourselves on our ability to offer high-quality vehicles, like the new Pathfinder, and superior service to drivers all over the Xenia area and beyond. We'll always do our very best to get you in the vehicle you want, with the financing you need. Then, like the icing on top of the cake, we'll pack on the value with our exclusive Jeff Schmitt Advantage. You'll love the difference here at Jeff Schmitt Nissan.

NEW VERSA
Take a look at our incredible selection of new Nissan models to find your perfect new Versa today. It's all waiting for you at Jeff Schmitt Nissan.

PRE-OWNED VERSA
A versatile ride like the Versa stays around a while. That's why we keep a diverse selection of pre-owned models to choose from.

READ OUR REVIEWS
The most important thing for us is making sure that our customers are completely satisfied. Read what they're saying about us.
BROWSE OUR EXPANSIVE SELECTION OF NISSAN CERTIFIED PRE-OWNED VEHICLES ONLINE; RIGHT HERE ON OUR USER-FRIENDLY WEBSITE TO BEGIN SHOPPING FOR YOUR NEW CAR, ALL WITHIN THE COMFORT OF YOUR OWN HOME. OUR EXPERT AND DEDICATED NISSAN PRODUCT SPECIALISTS ARE AVAILABLE EITHER OVER THE PHONE AT (855) 478-0665, OR ONLINE VIA CHAT AND EMAIL TO ANSWER ALL YOUR QUESTIONS. FEEL FREE TO DROP US A LINE ANYTIME. OUR CUSTOMER SERVICE TEAM IS ALWAYS AT THE READY TO EXCEED YOUR EXPECTATIONS. WE CAN'T WAIT TO OFFER YOU FIRST-HAND EXPERIENCE IN ALL THE WAYS YOUR NEW NISSAN WILL BETTER SERVE YOU AND YOURS, SO GET THE JEFF SCHMITT ADVANTAGE ON YOUR SIDE TODAY, AND GET BEHIND THE WHEEL OF YOUR OWN AMAZING NISSAN VEHICLE TODAY.