Nissan Maxima Springfield OH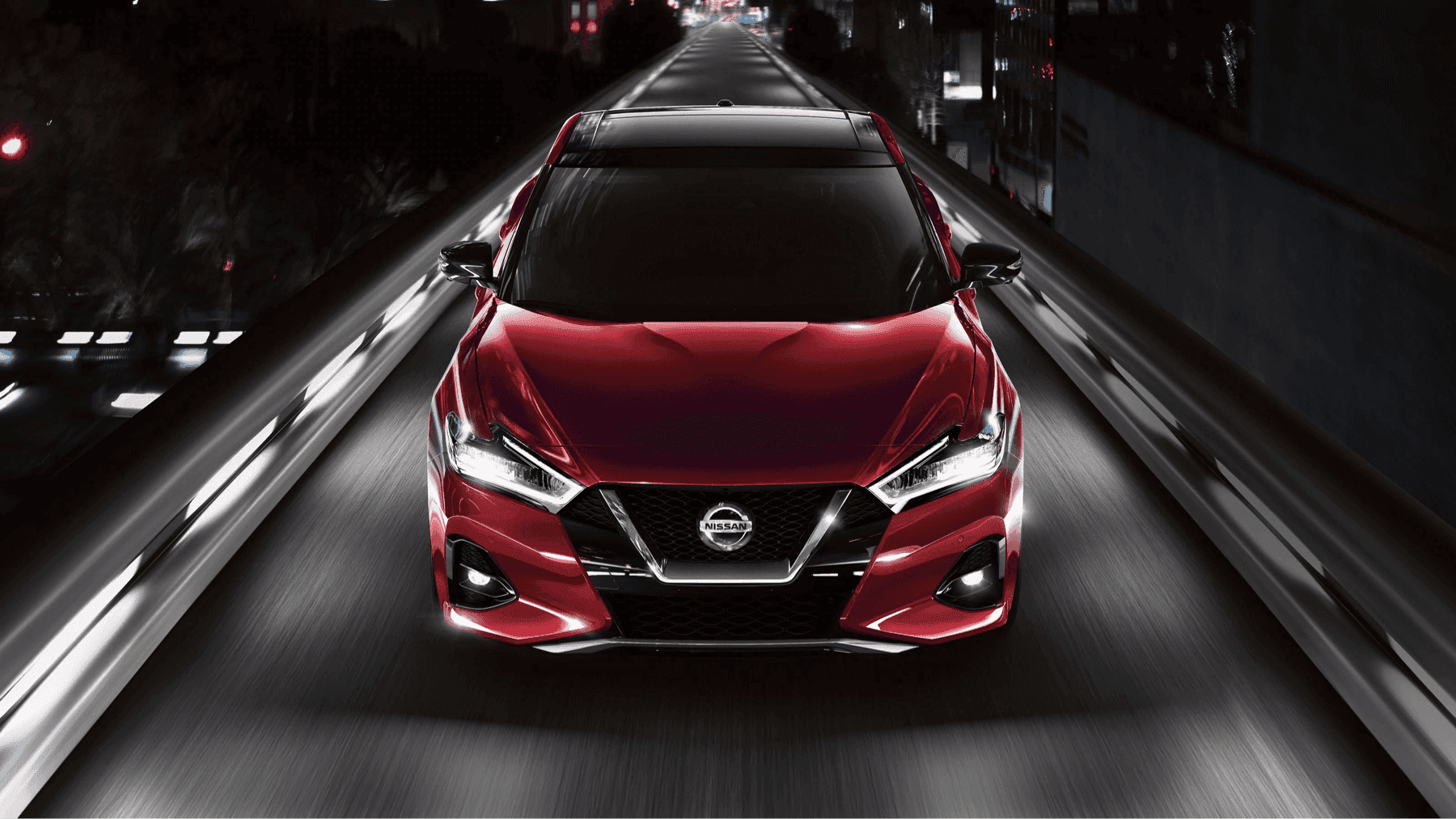 BREAKING THE MOLD
---
The Nissan Maxima is the cool culmination of style, elegance, and technology; proving that Nissan has indeed broken the mold. We welcome drivers in Springfield to come see what the bold new Maxima has to offer at Jeff Schmitt Nissan.
The expectation of sedans today is much higher than they used to be. We all want the latest technology and luxury features, but we don't want to pay the high price that some of these come with. The Nissan Maxima is the perfect pairing of luxury and affordability so you get what you want without the sticker shock. Come see the amazing Maxima at Jeff Schmitt Nissan and take it for a spin.
Technology That Inspires
We all want the latest gadgets inside our sedans. Welcome to the Nissan Maxima, where dreams are made in technology. The Maxima offers advanced technological features that are sure to inspire you. Apple CarPlay and Android Auto give you the ability to make/receive phone calls, send/receive text messages, set calendar appointments, get navigation information, and more all with the sound of your voice via Bluetooth technology. You can also stream your favorite music from your phone or use Pandora and other streaming music services to listen to all day long. No matter where you go, you can stay connected while on the go in the Maxima. Let our tech experts show you how these features can help you.
Keep Tabs On Your Teen
If your teenage driver should be lucky enough to get the privilege to drive your Nissan Maxima, you don't want them to have free reign of the road, especially when they are new drivers. Maxima gives you the option to set customizable alerts so you know what your teen is doing in your car. You can set a Speed Alert to let you know when your teen has exceeded a preset speed and a Curfew Alert to let you know if your teen is sneaking off without your permission. Valet and Boundary Alerts can be used to let you know if your teen drives to an unauthorized destination giving you the upper hand for once on your teen. We can show you how to set these alerts as well as Maintenance Alerts to keep your Maxima in tip-top shape.
Smart Safety
The Nissan Maxima was built with your safety in mind, especially when your teen is driving. Advanced Safety Features like Predictive Forward Collision Warning, Forward Emergency Braking, Blind Spot Warning, Rear Cross-Traffic Alert, and Moving Object Detection was designed to prevent an accident. Protective features like a suite of airbags, as well as SNUG KIDS (a recommendation on which car seat fits best inside Maxima), were designed to protect in case of an accident. There are so many features that Maxima offers when it comes to safety it is hard to list them all here, but we would be happy to give you a comprehensive list when you visit.
You Matter
Here at Jeff Schmitt Nissan, you matter. In fact, you come first because we realize that without our customers, we are nothing. It is our mantra to offer you fantastic customer service no matter if you are buying a new car from us like the Nissan Maxima, or need service for your vehicle. You will always be greeted with a smile and treated with kindness and respect when you visit our dealership. All of our product specialists are fully trained and certified so that they have the knowledge to serve you in the best way possible. Stop by Jeff Schmitt Nissan and visit us today.
The Jeff Schmitt Auto Group Wants To BUY YOUR CAR!
WHY BUY FROM JEFF SCHMITT NISSAN?
We believe in taking care of our valued customers with honesty, integrity and an absolutely amazing selection of Nissan vehicles. We'll work to earn your business the right way – not with flashy gimmicks, but by putting your needs first every time.
For years now, we've been the Miami Valley's leader in Nissan sales, service, and selection. That's because we're driven – not by money or profits, but by your absolute satisfaction. If you take the time to make Jeff Schmitt Nissan your first visit, we'll give you all the reasons you need to make us your last visit as well. From the moment you arrive, we'll have your back, and not just because that puts us closer to your wallet, either. We want to show you that it really is possible to find a car dealer you can count on for all your automotive needs. We'll be there to guide you to the perfect vehicle and financing options; and we'll continue to be there to care for your vehicle, keeping you worry-free all the while. Come and see just what the Jeff Schmitt Advantage can do for you. We promise you won't regret it.
The pros at Jeff Schmitt Nissan work hard to serve the Miami Valley the right way, with expert focus and dedication to your individual needs. We pride ourselves on our ability to offer high-quality vehicles, like the new Pathfinder, and superior service to drivers all over the Xenia area and beyond. We'll always do our very best to get you in the vehicle you want, with the financing you need. Then, like the icing on top of the cake, we'll pack on the value with our exclusive Jeff Schmitt Advantage. You'll love the difference here at Jeff Schmitt Nissan.

NEW MAXIMA
Take a look at our incredible selection of new Nissan models to find your perfect new Maxima today. It's all waiting for you at Jeff Schmitt Nissan.

PRE-OWNED MAXIMA
A versatile SUV like the Maxima stays around a while. That's why we keep a diverse selection of pre-owned models to choose from.

READ OUR REVIEWS
The most important thing for us is making sure that our customers are completely satisfied. Read what they're saying about us.
BROWSE OUR EXPANSIVE SELECTION OF NISSAN CERTIFIED PRE-OWNED VEHICLES ONLINE; RIGHT HERE ON OUR USER-FRIENDLY WEBSITE TO BEGIN SHOPPING FOR YOUR NEW CAR, ALL WITHIN THE COMFORT OF YOUR OWN HOME. OUR EXPERT AND DEDICATED NISSAN PRODUCT SPECIALISTS ARE AVAILABLE EITHER OVER THE PHONE AT (855) 478-0665, OR ONLINE VIA CHAT AND EMAIL TO ANSWER ALL YOUR QUESTIONS. FEEL FREE TO DROP US A LINE ANYTIME. OUR CUSTOMER SERVICE TEAM IS ALWAYS AT THE READY TO EXCEED YOUR EXPECTATIONS. WE CAN'T WAIT TO OFFER YOU FIRST-HAND EXPERIENCE IN ALL THE WAYS YOUR NEW NISSAN WILL BETTER SERVE YOU AND YOURS, SO GET THE JEFF SCHMITT ADVANTAGE ON YOUR SIDE TODAY, AND GET BEHIND THE WHEEL OF YOUR OWN AMAZING NISSAN VEHICLE TODAY.